Does Your Thai Girlfriend Work Bar?
I just have to tell you this. One night in Pattaya a friend of mine met a Thai girl at a beer bar on Second Road. He paid her bar fine then departed the bar with his new Thai girlfriend for the evening.
In the comfort of his hotel room he was about to indulge in some horizontal activity with his temporary Thai girlfriend.
Just before they entered their fleshy liason the Thai girl received a telephone call. She placed her hand over the microphone and whispered to my friend to stay quiet. Then she spoke to the caller.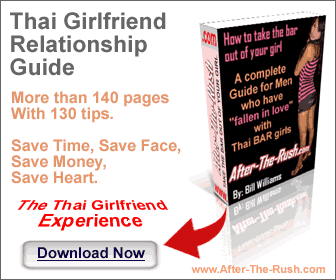 "No darling I not work bar"
Imagine you have met and fallen in love with a Pattaya bar girl. Don't think it won't
happen. This does happen to many foreigners who visit Pattaya.
You don't want your new Thai girlfriend to work in the bar when you go back to your country so you offer to pay her some money so that she does not have to work in the bar and get laid by lots of men.
Questions
But how will you know that she has stopped working in the bar?
How much should you pay her?
Probably not as much as you think.
Reading the Thai Girls and Sending Money report will save you some.
You are advised not to give her a large sum of money.
Why?
These three questions and more are answered and fully explained in the "Thai girls and Sending Money" report.
Fees
Are you thinking that you will have to pay expensive bank transfer fees if you send
periodic payments to your Thai girlfriend? Not if you follow the strategy outlined in pages 9 - 11 of:
"Thai Girls and Sending Money" report.
Right Answers?
It is so easy to become infatuated and sex struck by a warmhearted beautiful brown bar girl beauty.
When she gazes into your heart with those beautiful Thai brown eyes and says:
"I not work bar you send money me?"
Will you have the right answers?
Download "Thai Girls and Sending Money" and prepare yourself now.
Remember at the moment it is almost free and it will save you a bundle.
Check out the report and save yourself some time, money and frustration.
Here is the link.
"Thai Girls and Sending Money" report.
The report discusses the pros and cons of financial support for your Thai girlfriend.
It will show you how to avoid expensive fees but more importantly how to recognise scams and ways to side step them when you see them coming your way.
Your report will also reveal three very important questions that you should ask your Thai girlfriend.