Pattaya Bar Hopping Map
Going bar hopping in Pattaya? Here is the Pattaya Bar Hopping Guide Map to help you find your way to more than twenty outdoor bars, sixty of Pattaya's well known Go Go Bars and twenty no hassle couple's bars.
Probably more than one could handle on a short two week vacation. This is the latest bar guide map for Pattaya.
Pattaya Bar Girls Report is a great companion to the bar hopping map. Learn to negotiate with the girls and avoid scams.
The bars in Pattaya change names and owners frequently. Renovations and upgrades happen within months.
If you are returning to Pattaya after a previous visit don't be surprised to find that your favourite bar has changed names, moved to another location or just completely dissapeared.
This, in my opinion, is what keeps Pattaya fresh and exciting. There is always some new enterprise showing up on the map.
Click this map to enlarge it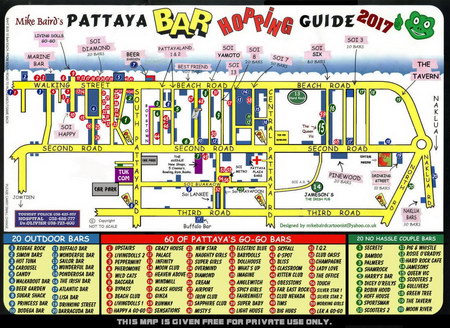 You will notice you have the map author's permission to download the Pattaya bar hopping map for your own personal use. We have enlarged this version of the map to be 1000 pixels wide. Click on the above map to view the enlarged version.
You can right click on the big map image and select the appropriate command to download it to your hard drive. There are two other maps you might be interested to view.
The Pattaya bar hopping map is updated two times per year usually in January and September so book mark this page if you want to came back to get the latest version of the Pattaya bar guide map.
Alternatively you can sign up for the free Pattaya Reports and receive a link to the new map in your email each time the map is updated. Just use the input form below to get the updates and nightlife info from Pattaya.
One bar hopping map details the bars located on the Pattaya "dark side" and the other map shows the assortment of bars that have become popular in Soi LK Metro an "L" shaped soi that runs between Soi Diana and Soi Baukaow.